How To Get the Most Out of a Smaller Outdoor Space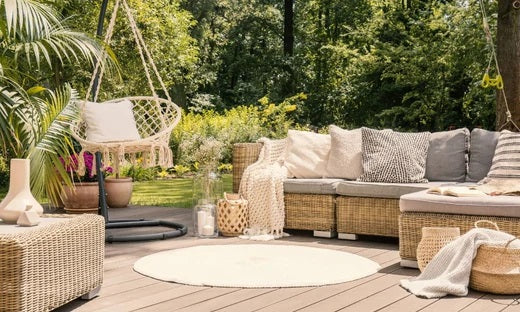 Quality outdoor living doesn't depend on the size of your patio, deck, or yard. It's about how you use it. Before you start shopping, take time to strategize how to get the most out of a smaller outdoor space.
Invest in Flexible Furniture
The most crucial thing is to choose your outdoor furniture wisely, taking into account scale, style, and function. You can buy less furniture if it does double-duty. Don't forget these pieces with multipurpose potential:
Sectional
Homeowners tend to look for dining tables and chairs first, but flexible seating options might be even more essential. Measure your space for a custom outdoor sectional that can optimize your patio or deck. You have several options to choose from, so you can arrange and rearrange the components according to your needs.
Fire Pit
You can use a fire pit as a focal point, a place to gather and get warm, or a spot for resting cocktails and hors d'oeuvres. When you don't need the fire, adding a cover means it can serve as a drinks station, a table, or a sideboard.
Bar and Stools
An outdoor bar is ideal if you entertain a lot, but it might also be perfect if you're not the type to hunker down for the evening at a dining set. You can perch at the bar to do some extra work or nibble on snacks, move the stools around for additional seating, use the bar as a buffet, and more.
Coordinate With Interiors
If you don't have a lot of acreage, you can make the space seem more fluid and cohesive by treating it as an extension of your interiors. Blocking it off as a separate area can be abrupt and limiting. Take your cues from your indoor aesthetic, and draw out some of the same colors and styling details in your outdoor décor. You can find coordinating throw pillows in weather-resistant fabrics and carry out some of the same motifs with art and rugs. Think of your patio as a bonus room—an airier living area.
Optimize Greenery
Never downplay your yard's natural beauty; flowers, plants, landscaping, and water elements are the best part. If you want more functionality, though, you can get the most out of a smaller outdoor space by incorporating lush greenery wisely. An in-ground garden is satisfying, but you can grow everything—even vegetables—in planters and pots that take up much less room. You can even move them around when you need to and free up valuable territory. And if you're interested in forward-thinking design, "living walls" of vertical gardens are impactful without impinging on square footage.
Your Patio Store is available for consultations, browsing, and inspiration in Fort Lauderdale. Contact us for any questions or to schedule a visit. We look forward to seeing you!