Top Tips for Entertaining Outdoors This Summer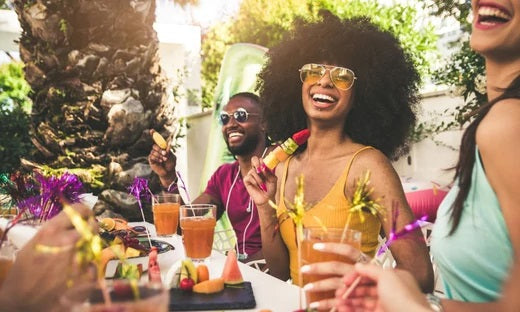 We're ready to socialize. Gatherings will probably stay smaller and more spread out for a while now, but we're taking our first steps toward regular visits with family and friends. With the right preparation, you'll be able to relax and enjoy the party. Use these top tips for entertaining outdoors this summer.
Strategize Seating Areas
Unless you want everyone lounging around the pool, get your chaise lounges out of the way. Create seating areas so that guests don't have to try to squeeze around one table. You can define the groupings with plush chairs around umbrellas or bring some of your chic rugs from inside so that they can coordinate with the seat cushions. Rearrange your sectional pieces so that guests can mingle—not feel trapped.
Set Up Stations
Avoid putting all the food at one table where just a few people will be able to sit. Remove the chairs and benches for buffet dining that keeps everyone moving. Put cocktails in one part of your yard, the grill in another, and a dessert table that will encourage guests to mingle. If you want to include children, provide an activity area with a badminton net that adults can use too.
Install an Outdoor Kitchen
It sounds like a major investment, but if you prioritize outdoor living, you'll be shocked by how much you use an outdoor kitchen. It eliminates the need to be a blur at your own party, rushing back and forth from the inside kitchen. Give your grill some company with surfaces for preparation, some extra storage, and a small refrigerator. A worthy compromise is an elegant wet bar with high-end patio bar stools for your favorite guests.
Light Up the Night
A sunset can create a romantic ambience—but it also can stop a party in its tracks. Take back control with creative lighting solutions in the spaces where you'd like your guests to linger. Just a few ideas:
Paper lanterns
Italian lights
Firepits
Tiki torches
Citronella candles
Flameless candles
Path lights
Tree lights
Floating lights in the pool
Sconces
Candle lanterns
Floor lamps from inside
Make your yard an irresistible destination with sophisticated furniture from Your Patio Store. And when you're ready for things to wind down, here's one of our absolute top tips for entertaining outdoors this summer: turn the lights off. All good things must come to an end.