How To Maintain Powder Coat Finishes on Outdoor Furniture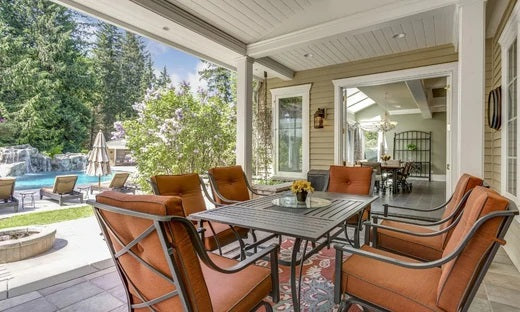 You know that fine, bumpy texture you feel on the surface of top-quality patio furniture? That's powder coating, which protects the metal from the elements. Of course, it looks amazing, too, and comes in a variety of colors. It will last up to 20 years if you know how to take care of it. Use these tips on how to maintain powder coat finishes on outdoor furniture.
Clean Gently
Manufacturers use powder coat because it's so much tougher than paint. It can stand up to sun, rain, and more severe weather conditions. Plus, it resists scratches, chipping, fading, and corrosion, so it's about as low maintenance as you can hope to find. If you notice any dust or dirt, just use mild soap highly diluted in water with a soft towel or sponge. Rinse and dry it with another soft towel.
Avoid Chemicals
Although powder coating is tough, it will last longer if you refrain from exposing it to harsh cleaners. Solvents like acetone can damage the finish. Be kind to your patio furniture. It already goes through a lot.
Wax When Needed
If you feel that your powder finish is looking dull, apply a little wax the same way you would on a car. After giving the furniture a light wash, apply a thin layer of wax. Let it dry, and wipe it off. Your coated metal should look like new.
Don't Touch Up
It's tempting to use your DIY magic on any chips or abrasions, but don't just dab at them with touch-up paint. It'll cheapen the look of your furniture, and it won't look good for long. Ask your furniture store if they can make repairs or recommend a professional to refinish it.
When you're buying outdoor patio furniture in Fort Lauderdale, Florida, you won't find higher quality than the inventory at Your Patio Store. We can custom-make pieces for your outdoor space and taste, and we only use the best materials. Learning how to maintain powder coat finishes on outdoor furniture will keep your yard chic and inviting. To see the variety of our selection, contact us or browse our website.